"After serving as an airline pilot for many years, my wife and I were ready for a new challenge. The Firehouse Subs business model is a proven one and the training and support provided to us as new business owners has put us quickly on the path to success."

Brandon & Stephanie E.

Multi-Unit Franchisees - Portland, OR

"The Firehouse Subs system works every day to deliver upon our brand promise while allowing our undeniable passion for quality and community service to shine through with every sub we serve."

Mariano A.

Multi-Unit Franchisee - Ft. Lauderdale, FL

"The biggest thing that makes Firehouse Subs different is our strong brand identity, incredible food, and our commitment to first responders in the communities we serve."

Chris & Jennifer P.

Franchisees - Elizabeth City, NC
Open a sandwich franchise
With one of the country's fastest growing restaurant brands
As a leader in the fast casual sandwich industry, the demand for our uniquely-prepared Specialty Subs is blazing a trail across the country, opening up fast casual food opportunities in new and existing markets. With our strong brand identity, exceptional franchisee relationships, and passionate executive team, Firehouse Subs franchises are perfectly poised for development with the right investor.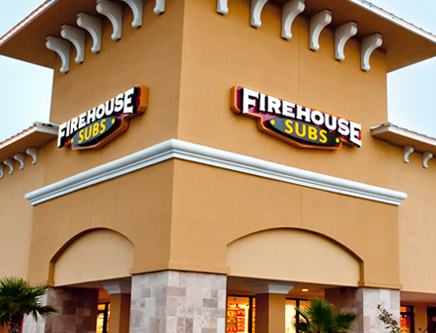 What We Ask In Return
Minimum of $80k to invest

Credit Score of 650+

Strong inner drive for excellence

Devotion to your Firehouse Subs business

Motivated and community‑minded

Must love subs!
Ready to get started?
Request an information form and a representative will be in contact with you.
Why Firehouse Subs is a Fit For You
Featuring second-to-none sub sandwiches and a commitment to the communities they serve, Firehouse Subs is a daily affirmation that serving good food and doing good belong together.
The Perfect Combination

Our unique steaming process awakens the flavors of our premium meats and cheeses. When our sub sandwiches are served in restaurants featuring authentic firefighting décor, this is a combination people come back for again and again.

Spreading Like Wildfire

Fast approaching 2,000 locations, our expansion is carefully calculated to optimize potential, profitability, investment, and of course, our franchisees' success.

Operational Excellence

With an ever-growing history of innovative products, a focus on exceptional customer service, and a one-of-a-kind brand identity, Firehouse Subs is committed to building profit for franchisees and area representatives.

Powerful Marketing

Our marketing is as memorable and compelling as our subs. "Enjoy More Subs. Save More Lives." not only sets us apart, but it applies to every aspect of our business. Everything we do is about bringing people back again and again.

Community Service

The Firehouse Subs Public Safety Foundation was launched to give back to communities. Since its inception in 2005, the Foundation has awarded more than $42 million in grants to improve the life-saving capabilities of local first responders.

Extensive Training

We offer extensive training programs and operating systems to help build your business. Our support team of experts all work together to streamline operations for businesses that are simple to run.
2018

2018 Top 200

#73 - Nation's Restaurant News

2018

Best Franchises to Buy: High Investment - More Than $500,000

#4 - Forbes

2018

2018 Franchise 500

#39 - Entrepreneur

2018

Top 200 Food and Restaurant Franchises of 2018 - Sandwiches

#3 - Entrepreneur

2018

2018 Top 100 Movers & Shakers - Top 75 Brands

#52 - Fast Casual

2018

Top 100 Franchises for Less Than $100,000

#6 - Entrepreneur
"Firehouse Subs' passion for public safety, heartfelt service and their operator's mindset have proven to be a great differentiator for our restaurants."

Julie A.

Multi-Unit Franchisee - St. Louis, MO

"With my background in finance, I knew that multi-unit franchise ownership with Firehouse Subs would allow me to diversify my portfolio and build something long term for my family."

Sarju P.

Multi-Unit Franchisee – Tampa, FL

"Nearly 10 years ago, I made the decision to invest in my first Firehouse Subs restaurant. Today, I'm a multi-unit franchise owner thanks to the brand's streamlined operations, strong brand identity and commitment to first responders."

Mitul D.

Multi-Unit Franchisee - SC & GA