FRANCHISE OPPORTUNITIES IN GRAND RAPIDS, MICHIGAN
Are you looking to start your own business? If leadership, reliability, dedication, and being a team player, are personality traits you possess, then opening a Firehouse Subs franchise in Grand Rapids, MI, might be the answer for you! Firehouse Subs is a company where you can find work-life balance and flexibility with your schedule. Deciding to open a restaurant in Grand Rapids with Firehouse Subs allows you the freedom of owning your business while maintaining a support team. At Firehouse Subs, we are a family, and we are here to support you.
Having 28 years in the business has allowed us a lot of time and experience to compile a host of training programs and operating systems that help mold and strengthen your business. Firehouse Subs supports our franchisees in every area of your business. We realize that a business is nothing without the community where it is located, and that doing good should be done without expectations, so we support our local communities like we support our franchisees. At Firehouse Subs, we show our gratitude and thanks to our hometown heroes in our local communities by contributing a percentage of every sale from our local Firehouse Subs franchises to the Firehouse Subs Public Safety Foundation. With over 17 years of establishment, we have donated over $69 million in grants to the foundation. Our company has a work culture that we take great pride in. We believe that it is not enough to serve good food; you must do good as well. Get in on a perfect franchise opportunity in Grand Rapids and open your Firehouse Subs franchise.
Contact us today to learn more!
3 GREAT REASONS TO LOOK INTO A FIREHOUSE SUBS RESTAURANT FRANCHISE
IN GRAND RAPIDS, MICHIGAN
With the city recently ranked #16 (out of all the cities in the U.S.) for Best Places to Live by U.S. News & World Report, you get the crème de La Crème when you choose to open a business in Grand Rapids.
It's all about location. And if that is true, then Grand Rapids, MI, is the place to be! A study conducted by Lending Tree, found Grand Rapids to be the 2nd best place in the nation to call home for small businesses.
A good economy and a city that is small-business friendly help with the start-up process and overall longevity of a business. Banks in West Michigan have found to be more likely to offer small business loans due to the strong economy.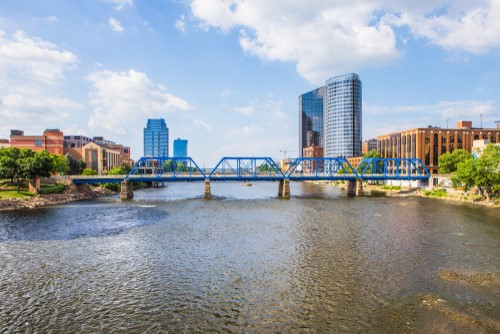 }