FIREHOUSE SUBS FRANCHISE OPPORTUNITIES IN LOS ANGELES, CA
It's not just actors and artists that adorn the streets of Los Angeles. Firehouse Subs is blazing a red-hot trail across this great nation and is headed straight for the City of Angels. If you're looking for a new franchise opportunity in Los Angeles, opening a Firehouse Subs franchise in LA could be your next big moment ! With a process that has been refined and perfected over the last 27 years, Firehouse Subs knows what works and what doesn't.
Firehouse Subs knows that serving good food and doing good belong together. That's what we do! As a leader in the fast-casual dining industry, we know that this approach never grows old; it only improves over time. Just as our renowned sub sandwiches stuffed with a large portion of our specialty meats and cheeses placed on a freshly baked and toasted roll have a reputation for putting good food on the table, our business processes keep people coming back again and again. When you decide to pursue a franchise opportunity in Los Angeles with Firehouse Subs, you will never be alone. You join a team, and that team is there to support you. As a Firehouse Subs franchisee, you have your own Firehouse Subs restaurant location in Los Angeles that you run as your own business, but you will never have to stand alone! When you open a Firehouse Subs location, we provide a multitude of training programs and operating systems that will support you in developing your business.
In the same way we support our franchisees, Firehouse Subs supports our local communities. Through the Firehouse Subs Public Safety Foundation, Firehouse Subs has donated over $67 million in grants to improve the life-saving capabilities of local first responders since its founding in 2005. A portion of every sale from our delicious subs goes toward supporting this foundation that gives back to thank our hometown heroes in our local communities!
We invite you to come be a part of the Firehouse Subs franchise family. To learn more about our Los Angeles franchise opportunities, contact us today!
3 GREAT REASONS TO LOOK INTO A FIREHOUSE SUBS FRANCHISE IN LOS ANGELES
With only Tokyo and New York ahead in first and second place, Los Angeles is the third largest economic metropolitan area in the world. It's a good place to be if you're starting a business!
California tourists spent over $100 billion in 2021. That is a promising financial figure if you're thinking about opening a restaurant in LA to feed all those hungry tourists!
Los Angeles ranks second in the nation among Leading Large U.S. Metros for College Students, with 974,013 students enrolled in this area's universities and colleges. You can't go wrong feeding college students who are constantly on the go and need a bite to eat between classes!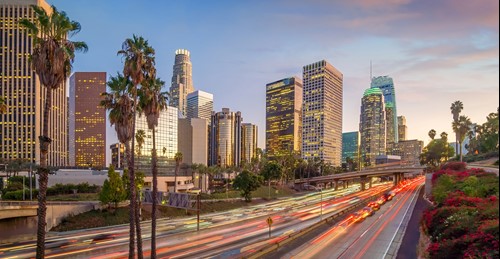 }