MILWAUKEE, WI FRANCHISE OPPORTUNITIES WITH FIREHOUSE SUBS
Firehouse Subs is blazing a trail throughout the United States, and Milwaukee is one of many stops along the way. If you're searching for a Milwaukee area franchise opportunity to turn the heat up on your next venture, opening a Firehouse Subs restaurant in Milwaukee is something you should seriously consider. With a process that has been cultivated and polished with precision over the last 28 years, Firehouse Subs has established a presence at the forefront of the fast-casual dining industry. At Firehouse Subs, we have a passion for great food, we know how to get business done, and we understand what works and what doesn't. Above all, we know how to treat and feed people well.
When we say we know how to treat people well, we mean that we treat our customers and our franchisees well, too. If you decide to invest in a franchise opportunity in Milwaukee with Firehouse Subs, you will become part of our family, and we will be there to support you. As a franchisee, you run your own business, but you're never alone. Firehouse Subs provides our franchisees with a multitude of training programs and operating systems to assist in the development of your business. At Firehouse Subs, we support our local communities in the same way we support our franchisees. Treating people well isn't limited to our franchisees and employees. The Firehouse Subs Public Safety Foundation has donated over $71 million in grants since its founding in 2005 to help improve the equipment and life-saving capabilities of local first responders. We give back to thank our hometown heroes in our local communities by donating a portion of every sale from our Firehouse Subs franchises to the foundation. We believe the best way to build a business is around community.
Come join the Firehouse Subs family. To learn more about our Milwaukee franchise opportunities, contact us today!
3 GREAT REASONS TO LOOK INTO A FIREHOUSE SUBS RESTAURANT FRANCHISE
IN MILWAUKEE
The restaurant industry and tourism sector go hand in hand. Opening a Firehouse Subs in the city that hosts the world's largest annual music festival, Summerfest, is home to the Milwaukee Brewers, and touts iconic landmarks, parks, museums, and nightlife means a lot of hungry people will find their way into your restaurant.
With more than 68,000 students enrolled in more than two dozen colleges, both public and private, students flock from all over the U.S. to attend college in Southeastern Wisconsin, and they could walk through your doors to grab a bite to eat at any time!

In 2014, the

Huffington Post

named Milwaukee the 

#1 Greatest Foodie City

, and Milwaukee has remained true to this honorable title ever since. Any restaurateur knows that it's all about location, and when you open a Firehouse Subs in this foodie city, you'll be in a prime location.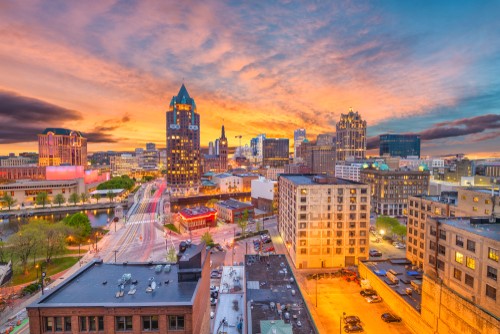 }