MINNEAPOLIS, MN FRANCHISE OPPORTUNITIES WITH FIREHOUSE SUBS
Are you looking for a balance between your work and personal life? Are you longing for more flexibility? Have you been searching for an entrepreneurial opportunity to finally start your own business? Opening a Firehouse Subs franchise restaurant in Minneapolis might be the answer for you! If you have ambition, strong leadership skills and work ethic, and enjoy being a team player, we would like to work with you. When you decide to franchise with Firehouse Subs, you become part of our family. As a family, we are here to support you and assist you in accomplishing your goals of operating your own business, but never being alone. Even as a seasoned investor or experienced business owner, it's nice to know that you are well supported when embarking on a new franchise opportunity in Minneapolis with Firehouse Subs.
At Firehouse Subs, we have implemented a host of training programs and operating systems to help you launch your business. As a franchisee, you are supported in every area of your business. We also support our local communities in the same manner that we support our franchisees. As of 2022, the Firehouse Subs Public Safety Foundation has donated over $71 million in grants to provide the equipment and life-saving capabilities of first responders. We show our gratitude and thank our hometown heroes in our local communities through donating a portion of every sale from our Firehouse Subs franchises to the foundation. With a process and culture that has been cultivated over the last 28 years, we believe that serving good food and doing good belong together. The best way to give back is to begin with our communities. 
Interested in joining our family and supporting first responders in the Minneapolis area with a franchise opportunity from Firehouse Subs? Reach out to us today!
3 GREAT REASONS TO LOOK INTO A FIREHOUSE SUBS FRANCHISE OPPORTUNITY
IN MINNEAPOLIS
The Great Lakes aren't the only great thing going for Minneapolis. Minneapolis has one of the strongest economies among cities in the U.S. Surrounded by Fortune 500 companies like Target, Hennepin Healthcare, U.S. Bank, Wells Fargo Bank, General Mills, 3M, and several others calling Minneapolis home for their headquarters, starting a restaurant franchise in this city is a smart business decision. 
When deciding to start a new business in a new city, you want to make sure the location is a great place to work and to live. Minneapolis offers the best of both worlds. It was recently ranked in the 25 Best Affordable Places to Live by U.S. News & World Report. 
Traffic congestion is a factor that drives many people away from living in large metro areas. Good news: Minneapolis has a well-designed highway network that doesn't get congested as often as in other major cities. Your patrons won't have to worry about getting stuck in traffic on their way to pick up a hot, delicious Specialty Sub.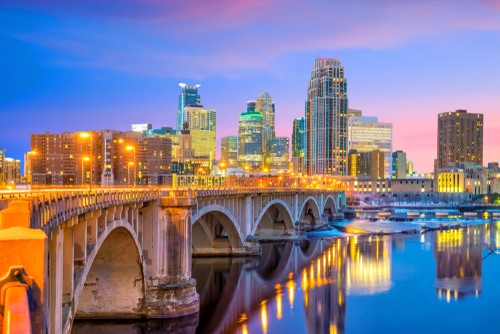 }