Former Airline Pilot Opens Firehouse Subs with his Wife to Stay Closer to Home
Posted January 09, 2019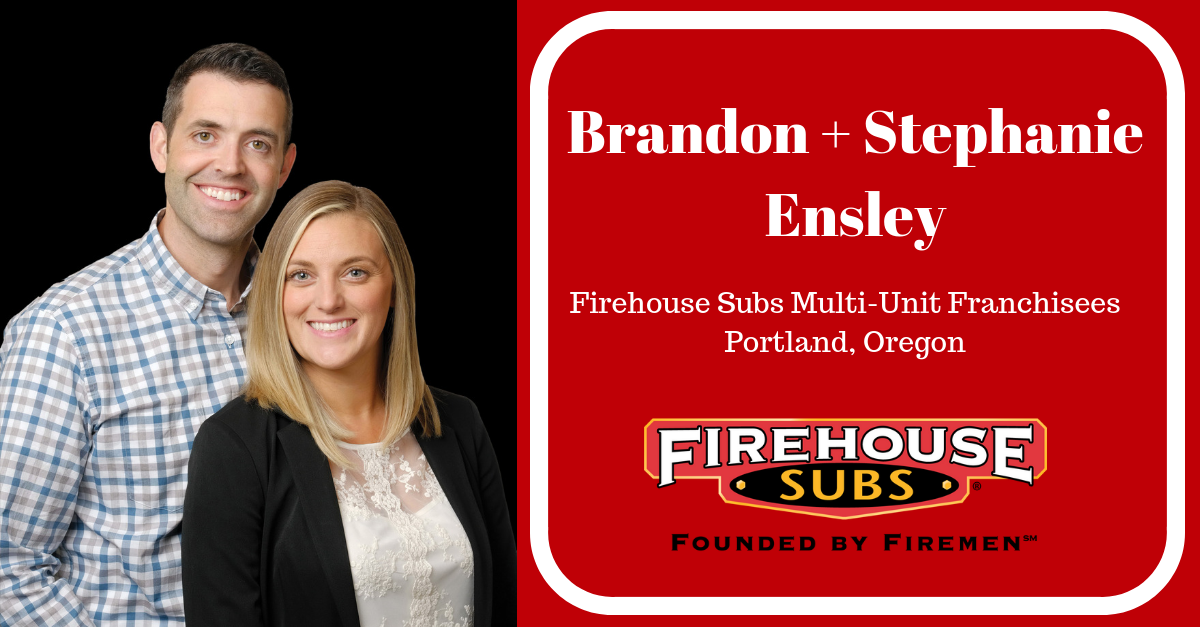 After working for many years as a successful airline pilot, following his military service, Brandon Ensley was at a crossroads. Tired of traveling and searching for something that would keep him closer to home, Ensley was looking for an opportunity to branch out on his own.
"I had a huge decision ahead of me. I could commit to remaining an airline pilot, which meant a life of traveling and not really having a sense of home, or I could change my lifestyle completely and pursue something on my own," said Ensley. "Ultimately I chose the latter after realizing how important family and balance was to me."
Ensley's introduction to the Firehouse Subs brand came in the form of lunch in Denver, Colorado. His wife Stephanie based the visit on the recommendation of her coworker. After their first Hook & Ladder sub, both Brandon and Stephanie have not looked back.
Realizing franchising was their "runway" to small business ownership, Brandon Ensley quit his job as a pilot in 2013 and went to work behind the line as an employee in a local Denver Firehouse Subs.
"Brandon and I had always discussed starting a business because of my extensive background in the restaurant industry and his disciplined approach to anything he sets his mind to," said Stephanie Ensley. "We explored some options, but ultimately decided Firehouse Subs was the best fit because of that initial, incredible experience we had as customers. Furthermore, Firehouse Subs is a proven system that we did not have to invent from scratch."
The Ensleys knew they wanted to move to the Pacific Northwest to be closer to family in Vancouver, Washington, and thankfully Portland, Oregon was a wide open market at the time. In March of 2014, the Ensleys opened their first Firehouse Subs and one year after that; they opened their second location.
"We learned early on in our franchise search that whatever business we chose needed to be something we could imagine ourselves doing," said Brandon Ensley. "That's why I took the time to work for almost a year inside a Firehouse Subs. I wanted to understand every aspect of operating a successful restaurant. Plus what attracted us to the brand is Firehouse Subs' larger mission and the work being done by the Firehouse Subs Public Safety Foundation to benefit first responders in the communities in which we operate."
Brandon Ensley, who served in the military, said the majority of his family members have military experience and Firehouse Subs' mission of giving back to the community mirrors his own personal philosophy. The Ensley's restaurants to date have raised more than $204,000 on behalf of the Firehouse Subs Public Safety Foundation.
Since its inception, the Firehouse Subs Public Safety Foundation has granted more than $37.7 million in funding for life-saving equipment and educational opportunities to first responders and the public safety organizations in the communities in which restaurants are located. All Firehouse Subs locations recycle empty five-gallon pickle buckets and make them available to customers for a $2 donation to the Foundation. Additionally, donation canisters at the register counter collect spare change and the Round Up Program encourages guests to "round up" their bill to the nearest dollar, all benefitting the Foundation.
Since making the decision to join Firehouse Subs, the Ensleys have grown from one to five locations across the greater Portland area. They attribute their success to the brand's high standards and also the fact that they are hands-on in each of their locations.
"We're in the restaurants every day," said Stephanie Ensley. "As multi-unit franchise operators, we like to know what is going on in each restaurant and see everything first hand. It's the only way to build a strong team."
The Ensleys' hard work is paying off. Three of their five restaurants are now part of Firehouse Subs' "Champion's Circle," which highlights restaurants that generate more than $1 million in revenue annually.
"There is so much potential with Firehouse Subs across the Portland area," said Brandon Ensley. "Our philanthropic mission along with our amazing food is perfectly positioned for Millennials and every other generation out there. There is an undeniable energy in our restaurants. They are fun, bright, clean and inviting. I can't imagine doing anything else."
To learn more about franchising with Firehouse Subs, visit www.firehousesubsfranchising.com