Franchisee Spotlight - Chris Holmes' Continued Success with Firehouse Subs and Plans for Franchise Growth Across North Florida, Alabama and Georgia
Posted December 19, 2018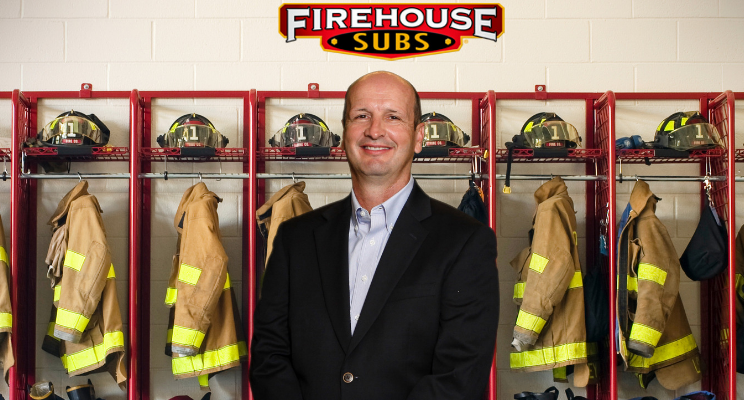 When Chris Holmes first came across Firehouse Subs more than 20 years ago, the brand was little more than a regional chain based in Jacksonville, Florida with a handful of restaurants spread across the city. At the time, there were very few major sandwich concepts operating and none were looking to disrupt the industry like Firehouse Subs was and continues to do so today. But with a strong desire to become his own boss, Holmes decided to purchase the rights to operate a Firehouse Subs in Tallahassee, one of the brand's first restaurants outside of Jacksonville.
"When I bought my first Firehouse Subs, we certainly did not have the national brand presence that we have today," said Holmes. "At the time, I had no idea how big we would become, but there was something unique and disruptive about what Firehouse was doing and that was hard to pass up."
About three years after purchasing his first restaurant, Holmes decided to become Firehouse Subs' first Area Representative and develop an entire territory on behalf of the brand. He purchased the rights to sell and develop franchises from Tallahassee north to Auburn, AL and back down into the Florida panhandle. This method of strategic franchise growth has served Firehouse Subs well as it has allowed the brand to open more than 1,140 restaurants, something fewer than 40 limited service brands have accomplished. In Holmes' territory alone, he has helped the brand open 34 restaurants with multiple franchisees.
"Once we decided to become Area Representatives for Firehouse Subs, that's when things really took off," added Holmes. "I was now helping people who were just like me get into an amazing business for themselves, but not by themselves. To this day, I travel to each restaurant in my territory to help when needed. We're actually still operating the first location in our area that we opened more than 20 years ago. In fact, we've been able turn several of our general managers into franchise owners over time, which is something I'm extremely proud of."
While Holmes has certainly seen success as a small business owner and Firehouse Subs Area Developer over the years, he still attributes that realization to those he has been fortunate to surround himself with.
"I came into a franchise system which had a passionate executive team firmly established and I was surrounded by other owners I could always count on for advice and mentoring," said Holmes. "That kind of family atmosphere is still a cornerstone of the Firehouse Subs brand and permeates down to our employees at the restaurant level. It's a major differentiator for us and makes a world of difference in the way we operate our restaurants versus the competition."
Furthering that differentiation for Holmes is the Firehouse Subs Public Safety Foundation. Since its inception, the Foundation has granted more than $37.7 million in funding, life-saving equipment and educational opportunities to first responders and the public safety organizations in the communities in which restaurants are located. Locally, Holmes recycles five-gallon pickle buckets and makes them available to customers for a $2 donation to the Foundation. Additionally, donation canisters on his register counters collect spare change and the Round Up Program encourages guests to "round up" their bill to the nearest dollar, all benefiting the Foundation.
"As a person that has worked in the hospitality field for over 30 years, and is not a first responder, our Foundation has allowed me and everyone involved with Firehouse Subs to help save lives," said Holmes. "If you're blessed with the opportunity to meet a person whose life was saved by a piece of equipment you helped donate, it changes your life. The fact that we get to serve great subs and save lives at the same time is amazing!"
According to Greg Delks, Firehouse Subs' vice president of global and non-traditional franchise development, Holmes' hard work continues to pay off following years of exceptional customer service and brand loyalty.
"At Firehouse Subs, we pride ourselves on serving customers only the best meats and cheeses piled high on our toasted sub roll while pledging our unwavering support of first responders in the communities in which we operate," said Delks. "Chris has long proved to be an exemplary franchisee and area developer who embraces those values."
Currently, Holmes is searching for new franchisees to fill in available opportunities across Florida's panhandle and Ozark, Alabama, as well as Columbus and Macon, Georgia, among others. The average initial investment for a single restaurant is approximately $350,000 depending on the real estate selected. If you think you have what it takes to become the next Firehouse Subs franchisee, please click here.