Why I Bought a Firehouse Subs® Franchise: How The Firehouse Subs Public Safety Foundation Won Over Franchisee Jina Kim
Posted January 28, 2019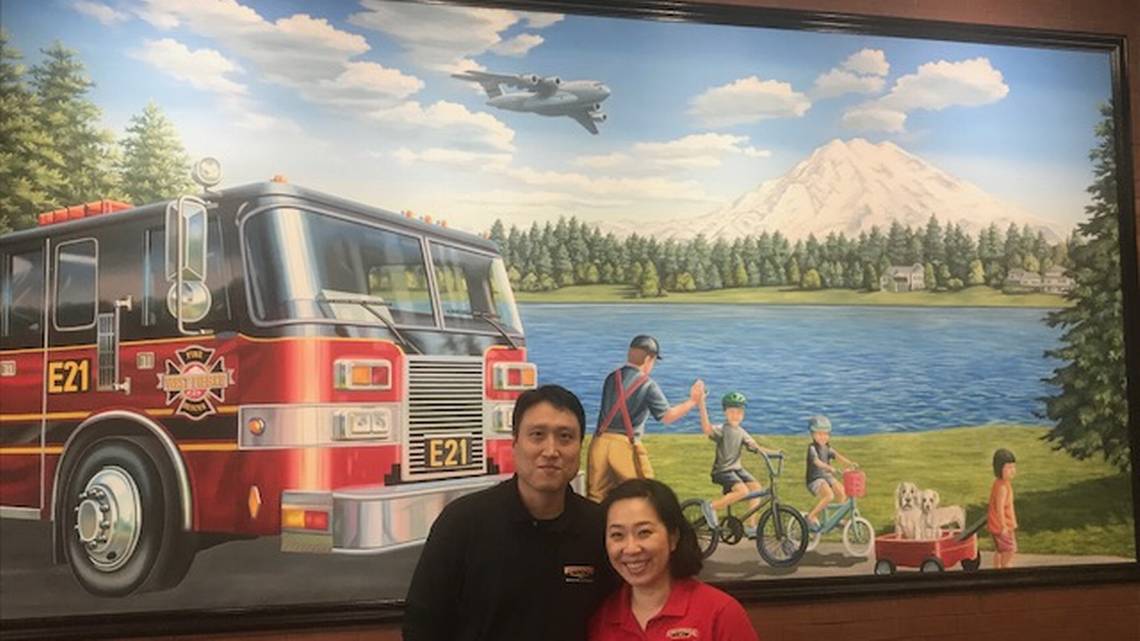 Transplants to Washington state from the southern U.S., Jina Kim's husband and brother-in-law constantly raved about "this sauce" from Firehouse Subs back home. At nearly every family gathering, they lamented the fact that then, about five years ago, there wasn't even a hint of the brand near Seattle. They just suffered through and patiently awaited the next trip back home to get a taste of the famous Captain Sorensen's® Datil Pepper hot sauce. 
"They never could completely or accurately describe it, but it certainly had this amazing allure," said Jina Kim, Firehouse Subs Lakewood, Washington franchisee. "They took every possible opportunity to talk about how delicious 'that sauce' was and how great it would be if we could bring it to the Seattle area."
Jina's husband and brother-in-law kept encouraging her to consider a Firehouse Subs franchise and as a previous small business owner, she began attending events and researching brands to find her next venture. During one outing, she happened upon a Firehouse Subs representative and placed his business card in her pocket. That business card migrated from purse to pocket for about a year until one day her husband found it and was thrilled to see the Firehouse Subs logo again.
Not long after that discovery, Jina and her husband Danny took a road trip down to Oregon and came across a Firehouse Subs for lunch.
"My husband was so excited to make me a Firehouse Subs convert, he literally ordered as many sandwiches as he thought I could try in one sitting," said Kim. "Then, he ordered some more to bring home for his brother, even though it was nearly a four hour drive back."
Jina definitely liked the food, but still was not ready to invest in a franchise concept.
"Even though there was no Firehouse Subs in the Seattle area yet, I was skeptical about the market saturation in the business sector," she said. "There were other sandwich concepts already growing across the region, but I finally agreed to learn more."
It ended up being the Firehouse Subs Public Safety Foundation® that was the tipping point for Jina. Although there are no firefighters in her family, she has several uncles on the police force and understands all too well the sacrifices that first responders make in serving their respective communities.
"It's true, we're selling a sandwich but there's a deeper meaning. For me, the Firehouse Subs Public Safety Foundation accounted for 90 percent of my decision to become a franchisee," said Kim. "When you know the work you're doing as a franchisee is benefitting first responders at the local level – it becomes a very personal and motivating experience."
The final 10 percent of her decision was the support, infrastructure, operational excellence, powerful marketing and extensive training she continues to receive from Firehouse Subs' corporate headquarters, she added. After planning, business preparation and finding the right location in the Tacoma area a bit south of Seattle, Jina Kim opened her Lakewood, Washington restaurant in early 2018. Near a military base and a firefighter training facility, it's quite common for Army, Air Force, firefighters and police officers to come in weekly.
"The icing on the cake is when a 5- or 6-year-old kid is eating in our restaurant and one of these first responders comes in," Kim said. "They are always spellbound and say 'ahh, Mommy, a fireman!' It is like Superman has walked into their world and that pure innocence and awe is something no other brand in the world can match."
Nationally, the Firehouse Subs Public Safety Foundation has granted more than $37.7 million in funding, life-saving equipment and educational opportunities to first responders and the public safety organizations in the communities in which restaurants are located. Locally, Kim recycles five-gallon pickle buckets and makes them available to customers for a $2 donation to the Foundation. Additionally, donation canisters on her register counters collect spare change and the Round Up Program encourages guests to "round up" their bill to the nearest dollar, all benefitting the Foundation.
Firehouse Subs' meticulous attention to strategic growth with the right franchisee partners has allowed the brand to open more than 1,150 restaurants, something fewer than 40 limited service brands have accomplished. From its corporate support systems to its simplified business model, the entire Firehouse Subs franchise system is designed to position local franchise owners for success. With a strong brand identity, excellent franchise relationships, and a passionate executive leadership team, the brand also boasts an affordable average initial investment of approximately $350,000 for a single restaurant, depending on the real estate selected in Seattle and across the Pacific Northwest region.
For more information about franchising with Firehouse Subs in Seattle, please click here.