Why You Need a 5-Year Plan as a Franchise Owner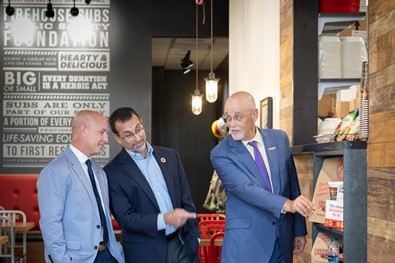 Running your own business can be an incredibly rewarding and exciting venture. And you can make the most out of this experience with a 5-year plan. Many business consultants will tell you that having a clear 5-year plan is a key piece to maximizing your success. This plan is meant to act as a kind of roadmap, to help you visualize the future of your franchise or another enterprise. You will be able to use this strategic guideline to keep yourself motivated to grow, hit certain targets or goals, and boost your revenue over time.
Every type of business should have a 5-year plan, including franchises. Even if you're benefiting from the structure and support of an established company, like Firehouse Subs, doesn't mean you should leave your individual success up in the air. The most successful franchisees are the ones who are dedicated, organized, and invested in making their franchise businesses as lucrative as possible.
Five-year plans are also essential if you plan to gather investors for your business, such as splitting a franchise with a family member or business partner. All parties who invest in the franchise should have a clear vision of your plan.
There are many parts to a good 5-year business plan, and you may need to tailor these to suit your unique needs. A franchisee, for example, may have slightly different requirements than an independent startup. Here are a few basic components of a 5-year business plan:
Company mission statement and vision
SWOT analysis- strengths, weaknesses, opportunities, and threats to the business
Business metrics or key success indicators
Individual revenue goals per quarter and/or year
Target audience or ideal customer
Analysis of industry/market and competitors
Detailed marketing plan including advertising, networking, and promotions
List of all team members and their roles and responsibilities
Financial projections
Growth strategies for both busy and slow times
As you can see, there is a wealth of information inside a 5-year business plan, and this can act as a map toward your future success. Chances are good that you're opening your own Firehouse Subs franchise in order to be a part of something meaningful, to share great food with your community, and to create sustainable income for yourself and your family. This plan can be a reminder of your "why," the value you gain from this work, and keep you accountable.

While you will likely receive a great deal of support and resources from your parent company, the individual success of your store is up to you! This is one of the greatest parts of being a franchisee—the freedom to direct your future. You decide who to hire, how to connect with your community, how to market yourself, and how much energy you devote to your growth. A 5-year plan is a wonderful motivation, especially for times when business may be slow or you hit some speed bumps along the way.

Take time to map out your 5-year plan and consider making a colorful graphic version that you can hang in your office or the back of your store.

Want more tips on how to make your Firehouse Subs franchise a success? Want to explore our current franchise opportunities? Get in touch with our team today to request more information!

;
}