FIREHOUSE SUBS FRANCHISE OPPORTUNITIES IN SAN JOSE, CA
Situated in the heart of Silicon Valley, San Jose has much more to offer its residents and tourists than high-tech gadgets and advanced technology. Nestled within the borders of San Jose lies boundless opportunities for entrepreneurs. As one of the most affluent cities in the world, San Jose is an entrepreneur's dream city. And Firehouse Subs is looking to help you achieve your highest aspirations. By pursuing a Firehouse Subs franchise opportunity in San Jose, you can begin the journey along the road to owning your own business or expanding upon your current business portfolio. Firehouse Subs is looking for determined individuals who enjoy great food, are diligent, love contributing to a team, and are dedicated to their success as well as the success of their company.
Established over 27 years ago, Firehouse Subs is a leader in the fast-casual sandwich industry, and we know what works. Our business model is centered around the belief that serving good food and doing good belong together. It's an approach that never goes out of style. Being kind and breaking bread over good food will always be an important ideal. And our renowned subs made with fresh, toasted breads stuffed with large portions of our specialty meats and cheeses keep people coming back again and again.
When you decide to pursue a franchise opportunity in San Jose with Firehouse Subs, we supply you with extensive training programs and operating systems that assist you in building and growing your business. Franchising with Firehouse Subs means you're part of a supportive team. As a Firehouse Subs franchisee, you will run your business as your own, but with the help of a Firehouse Subs team supporting you!
If this sounds like a San Jose franchise opportunity that might interest you, contact Firehouse Subs today to learn more about what owning a Firehouse Subs restaurant in San Jose entails!
3 GREAT REASONS TO LOOK INTO A FIREHOUSE SUBS FRANCHISE IN SAN JOSE
We've said it before and we will say it again, starting a business is all about location. Another factor that's just as important in the business world is who you surround yourself with! You will be hard-pressed to find another city that's a better place for a franchise opportunity than San Jose. As featured in Business Insider, San Jose is home to the most millionaires and billionaires in the United States per capita. As an entrepreneur, you can take that to the bank!
San Jose is home to many universities and colleges. The largest, San Jose State University, has more than 32,000 enrolled students. And that's just counting the students at San Jose State University, not the student population for the surrounding colleges and universities. As far as opportunity is concerned, that's a huge potential for hungry students to feed between classes.
San Jose is home to an incredible food industry scene, and it helps that the city is extremely business-friendly. Even if you're on the starting leg of your entrepreneurial journey, there's large potential for immense growth.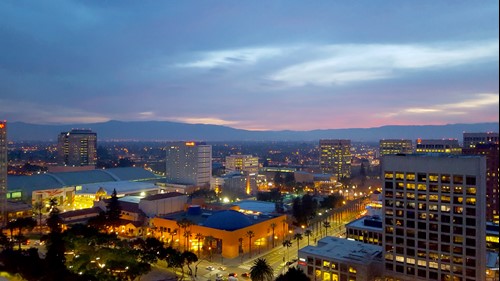 }