SIOUX FALLS FRANCHISE OPPORTUNITIES WITH FIREHOUSE SUBS
Don't you think it's about time to stop daydreaming about owning your own business and begin to put things in motion to make it happen? Now is the best time to act and seize the opportunity you've been waiting for with a franchise opportunity in Sioux Falls. And if you are motivated, focused, driven, and are a team player, there's no better company to partner with than Firehouse Subs. As a leader in the fast-casual sandwich industry, Firehouse Subs has been in business for over 28 years. When you decide to invest in a Firehouse Subs franchise opportunity in Sioux Falls, you can rest assured you're going into business with a successful company with established and proven processes and an experienced team to support you every step of the way.
As a Firehouse Subs franchisee, we guide you along your business journey. You'll run your own Firehouse Subs restaurant location in Sioux Falls with the benefits of belonging to a supportive team. Firehouse Subs provides powerful marketing tools for all of our franchisees and excellent onboarding programs for your employees. We offer various training programs and operating systems that will assist you in scaling your business, leaving you poised for success.
Just as we support our franchisees, Firehouse Subs supports our local communities. Firehouse Subs is known for its charitable contributions through our Firehouse Subs Public Safety Foundation. With this foundation, a portion of each sale goes toward supporting our hometown heroes. Over 69 million dollars in grants have been provided to assist first responders and provide their lifesaving equipment and essential resources.
Our Specialty Subs toasted on a private recipe bun and paired with great customer service and charitable community outreach will keep your customers returning again and again! At Firehouse Subs, we believe good food and doing good belong together. Ready to learn more about Firehouse Subs franchise opportunities in Sioux Falls? Contact us today to learn more!
3 GREAT REASONS TO LOOK INTO A FIREHOUSE SUBS RESTAURANT IN SIOUX FALLS, SD
The job market in Sioux Falls is extremely strong. With unemployment levels lower than the national average, the population has the disposable income to dine out and you won't have trouble finding great workers to staff your Firehouse Subs franchise.
We all know that real estate prices have been on the rise, and owning property is getting more expensive by the day, but not in Sioux Falls. In 2019, the median home price was $190,000, lower than the national average. Sioux Falls is a great place to set down your roots and open a Firehouse Subs franchise!
Many would name places like Manhattan, Miami, or Chicago as great places for foodies. Not many associate Midwestern cities like Sioux Falls with great places to dine. But Sioux Falls is known for restaurants like Parker's Bistro, which has received notoriety from The Food Network, and Sanaa's, which was established by a Le Cordon Bleu-trained chef. So you're in good company owning a restaurant in Sioux Falls!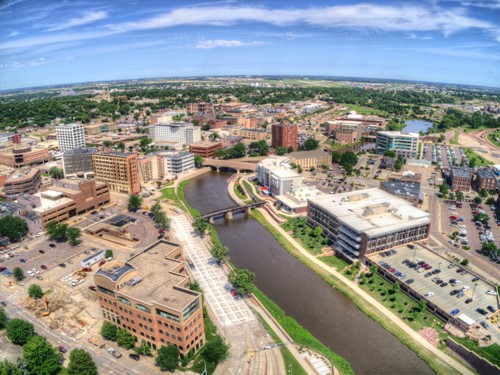 }