FIREHOUSE SUBS FRANCHISING OPPORTUNITIES IN WISCONSIN
Are you thinking about starting your own business but don't want to go it alone? Welcome to the Firehouse Subs franchise family. We might have the answer you're looking for! As a Firehouse Subs franchisee, you are never alone. When you decide to open a franchise location with Firehouse Subs, you have the benefit of being a business owner while also having a supportive team of experienced people who will always have your back. Deciding to franchise with Firehouse Subs means you'll have access to powerful marketing tools, extensive training programs, and operating systems to help build your business and streamline all the necessary operations. Each Firehouse Subs franchise location is meticulously chosen to achieve an optimal potential for your investment, profitability, and overall success. We do everything in our power to ensure that our franchisees are positioned for success and aid you along your journey. Firehouse Subs has over 1,500 locations nationwide, and we are currently expanding in Wisconsin! We're searching for entrepreneurs who are highly motivated, love good food, and have a drive for excellence. If you're looking for an opportunity to have your own business and be part of a strong support system, then opening a Firehouse Subs franchise in Wisconsin might be the answer for you! Contact us today to learn more about our franchise opportunities.
3 GREAT REASONS TO LOOK INTO FIREHOUSE SUBS FRANCHISE OPPORTUNITIES IN WISCONSIN
With over 85 great colleges and universities spread across the amazing Cheese State, your potential for an abundance of mouths to feed will never dwindle with so many students needing a wholesome meal between their classes.
Wisconsin is consistently garnering a position in the Top 100 Best Places to Live. Milwaukee is known as the City of Festivals, but all across the state there is a large attraction for food, music, sports, and numerous seasonal festivities that will keep your business doors in rotation!
There's an abundance of like-minded business individuals and companies you'll be surrounded by. Wisconsin is home to companies like Harley-Davidson, Kohl's, Miller Brewing, and Northwestern Mutual to name a few! This is startup company central, quite literally—because, you know, you're in the Midwest.
Contact us today to learn more!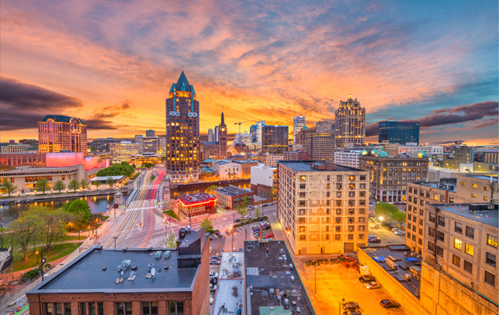 }