FIREHOUSE SUBS FRANCHISING OPPORTUNITIES IN NORTH CAROLINA
Do you have a fire burning within you to start your own business? Firehouse Subs is looking for entrepreneurs who are wanting to blaze trails, push for success, and help save lives. If this sounds like you, Firehouse Subs might be the answer for you! Firehouse Subs is more than just an established leader in the fast-casual sandwich industry. When we put a Firehouse Subs location in a neighborhood, we become a part of that community, and we want to make sure that we give back to our communities. As a thank-you from us to those who serve us every day, Firehouse Subs supports our hometown heroes. When you own a Firehouse Subs franchise, and a customer makes a purchase from your store, a portion of the proceeds from that purchase goes toward the Firehouse Subs Public Safety Foundation. These proceeds are then used to provide lifesaving equipment for first responders.

With over 1,200 current locations, Firehouse Subs is a foundational leader in our industry, providing all our franchisees with powerful marketing tools and all the necessary training and support to build a successful business. We then pair that with our uniquely prepared subs, topped with our premium meats and cheeses, and that keeps customers coming back again and again. We believe that serving good food and doing good belong together! If you're wanting to feed that fire within you and start your own business today, opening a Firehouse Subs franchise in North Carolina might be the answer for you. Contact us today and let's blaze some trails together!
3 GOOD REASONS TO LOOK INTO A FIREHOUSE SUBS FRANCHISE IN NORTH CAROLINA
North Carolina is home to more than just a lot of good southern barbeque. North Carolina is home to a NASCAR venue and also hosts some of the U.S. top competing teams in the NBA, NFL, and the NHL. There is also an MLS soccer team that was added to the state, set to be based out of Charlotte beginning in 2022. With all of those hungry mouths to feed, our Smokehouse Beef and Cheddar Brisket will fit right in!
Previously, North Carolina has been ranked as FORBES' Best State for Business three years in a row. With more and more people flooding to North Carolina recently, North Carolina has one of the highest net migrations rates in the U.S. This makes for a lot of potential customers.
With a median home price of $188,612 and 184 colleges and universities, North Carolina is not only poised for one of the best places to own a successful business but to also raise a family.
If you're interested in learning more about franchising with us, please contact us today!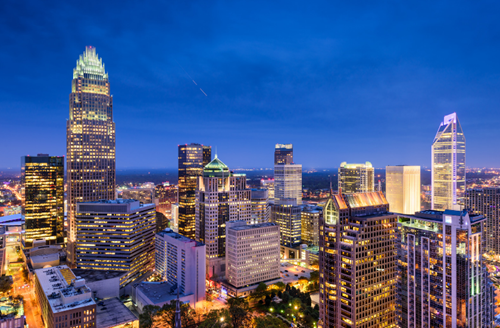 }